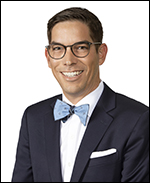 Bill McManus
Managing Director, Applied Insights

Bill McManus wants to make complex conversations as simple as he can.
Whether walking on stage at a top advisor meeting or stepping into a novice financial advisor's office, Bill follows a similar approach to engage with all audiences.
"I have a way of reading people and understanding what it is that advisors and their clients are ultimately looking for," he says.
"Today, advisors have to be providing value above and beyond their clients' traditional expectations," he says. "It's not that what they're doing is wrong. We're just trying to encourage them to think differently."
Bill joined Hartford Funds after graduating from the University of Pennsylvania. After years on the sales side, he assumed his current role in 2014. Since then, he's been on the road and featured in consumer and trade publications.
"I want to educate people and help them think a bit differently. I want to entertain people. You always want people to have a good time and be interested in what you're saying. Lastly, I want them to walk away with something actionable to do with the information you've given them."
According to Bill, presenting is the easy part. The hard part he says is challenging assumptions when selling the importance of the conversations they want to have with successful advisors. "Sometimes you're met with little bit of skepticism by advisors who say, 'We're money managers, and we provide investments and this is what we do'," he says. "We tell them this is the world that we live in now. We show them measurable and tangible results that will come from the activities and engagements we talk about."
Bill says his job is made easier thanks to the quality of the content—mostly focused on longevity challenges and opportunities—that he covers.
"The more confident in the message you're delivering, the easier it is to sit down with anybody and everybody and tell that in a succinct way that you know will be well received by everyone," he says.
Bill loves to travel. He's visited 25 countries and counting. His favorite destination so far: Vietnam.
During his time as a child actor, he was featured in 12 commercials and one movie.
A former member of the US National Rowing Team, Bill has two bronze medals from world championships in Lucerne, Switzerland and Seville, Spain.
He's been named the "Best Uncle in the World"—with several signed certificates signed and notarized in crayon to prove it.

Bill is in the beginning stages of learning to play the piano.
Contact your Hartford Funds advisor consultant or field specialist for Bill's availability.
Bill McManus is a registered representative of Hartford Funds Distributors, LLC.
Check the background of this firm/individual on FINRA's BrokerCheck.
Make planning a distant retirement more tangible with three thought-provoking questions
A "longevity-based advisor" can anticipate and meet increasing client expectations

WealthManagement, August 2019