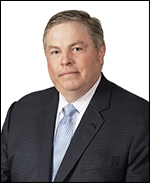 John Diehl, CFP®, CLU®, ChFC®
Managing Director, Applied Insights

After closing a presentation about rethinking longevity, John Diehl will often hear an unexpected observation—one he says reaffirms that he has the right job.
"The bartender or a server will come up to me and say, 'I don't ever listen to anything that's said at these things. But I couldn't help listening to everything you said. Let me tell you about my mom.' It tells me that our message is resonating the way I want it to."
After his grandmother's dementia diagnosis John became her primary financial decision maker, which ultimately led to his career in the financial services industry.
"I figured if it could happen to her, it could happen to anyone," he says.
John attended Moravian College in Bethlehem, PA before joining the organization in 1988. After working in product development, he began leveraging the firm's relationship with the MIT AgeLab. Their mission: to provide new ways of thinking about retirement and investing for advisors and their clients.
Now, as Senior Vice President of Applied Insights, John's responsible for a team that helps advisors understand how their industry—and the world—is changing around them.
"The biggest obstacle is the narrative that many advisors grew up with in the business," he says. "One that may have served them very well over the years, but it's changed."
John says technology helped transform an advisor from a broker to someone who now needs to listen more to clients' unique situations, and then help them develop a plan that's not strictly about investments.
"Today's advisor needs to better understand the context of their clients' needs," The financial piece isn't the problem. The emotions, high-level goals, and the aspirations are the challenge."
With a talented hand-picked team in the wings, John's able to focus more on developing content with researchers from the MIT AgeLab and other outside experts.
And the material resonates with everyone who hears it.
"I like feeling that I've improved someone's understanding," he says of reaching an audience. "When I can connect with people, it doesn't matter whether they're investors or advisors or people who are simply there in the venue working."
John grew up on a farm in what was a rural Philadelphia suburb during his childhood.
Even though he's on the road a good chunk of the time, one of John's favorite diversions is personal travel with his family and friends. His latest destination recommendation: Quebec.
He says while at home he loves working in his garden and riding his John Deere tractor.
Despite his natural abilities to captivate a large audience, John is a self-described introvert.
His elevator pitch for what he does for a living: "We help financial advisors understand how the industry is changing."
Contact your Hartford Funds advisor consultant or field specialist for John's availability.
John Diehl is a registered representative of Hartford Funds Distributors, LLC.
Check the background of this firm/individual on FINRA's BrokerCheck.
The MIT AgeLab is not an affiliate or subsidiary of Hartford Funds.