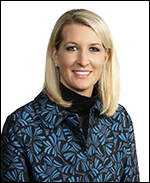 Julie Genjac
Managing Director, Applied Insights

Julie L. Genjac is passionate about mentoring teams of financial advisors. They're who she says sit in the industry's most difficult seat.
"They're constantly juggling client needs, firm needs, family needs, and navigating the unknowns of the markets," she says. "I help them think about their businesses like a business and work to make their practice more efficient and effective."
Helping advisors deliver better client experiences is what Julie says gets her out of bed every morning. As a managing director with the Hartford Funds Applied Insights team, she's brought an infectious energy to the creation and implementation of all advisor coaching and training programs since joining the squad in 2018.
"I believe that when you love what you do, it shows," Julie says. "I absolutely love having the opportunity to meet with advisors and their clients all across the country."
That passion has paid off, too. She was recognized just a year later by Money Management Executive in their annual "Top Women in Asset Management Awards."
According to Julie, each step in her career trajectory led to her role today—helping advisors create their own paths forward. And often the discussions she has go beyond enhancing productivity and the client experience. She aims to show advisors that they're the true leaders of the financial services world.
"Leadership happens at whatever level you're in an organization," Julie says. "You don't have to be the CEO or at the top of the org chart to exhibit leaderly qualities each and every day."
When not traveling 35,000 feet up in the air, she unwinds closer to earth by boating on the beautiful waters of the Pacific Northwest.
The favorite tool of this DIY home improvement aficionado: the wet tile saw.
A self-proclaimed "water addict," you'll always find her with at least one (if not more) bottles in hand.
This Costco fanatic says she wanders the aisles searching for ingredients to cook meals with her husband, Nedim.
She'll tell you every year that she's a top contender for "Aunt of the Year." (She says her young nephew and niece, Grayson and Emerson, bring her tremendous joy.)
Contact your Hartford Funds advisor consultant or field specialist for Julie's availability.
Julie L. Genjac is a registered representative of Hartford Funds Distributors, LLC.
Check the background of this firm/individual on FINRA's BrokerCheck.
Learn how to leverage your team's strengths, increase motivation, and maximize efficiency

Are you checking in with your clients "just because," or only for business needs?

Boost innovation, efficiency, and collaboration by avoiding a common phrase

Your personal story can be powerful tool to help inspire clients to take action