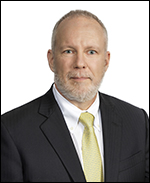 Mike Lynch
Managing Director, Applied Insights

Mike Lynch knows a presentation went well when attendees hang around as he packs up.
Most of the time there's usually a handful of people waiting to chat with him, he says.
"The beauty of these events is the five minutes afterwards, the 10 minutes afterwards," he says. "They just want to open up. And it's incredible what they'll tell you. The honesty, the pure passion, concern, and interest they have is amazing."
A native of Connecticut, Mike first joined the firm in 1993 after attending Eastern Connecticut State University. Presenting became a part of his duties shortly after. He revels in sharing helpful tools on anticipating and preparing for long-term demographic and lifestyle changes. It's content Mike says audiences are eager to hear.
"I think they're concerned," he says. "This generation is going to face retirement unlike any prior generation. They're being sold this idea of retirement that isn't true anymore. We let them know it's okay."
Mike says he prides himself on being able to bring a certain level of candor during events, especially when speaking with clients about the future.
"Clients are the ultimate audience," he says. "They're where the rubber meets the road. I think you have to be 10 times more prepared than meeting with advisors. Clients will call you on the carpet."
Because the conversations are not "sales, sales, sales," he says he's often told the content he brings to life is refreshing. That means he has no trouble staying to engage with eager audiences after a speaking engagement wraps.
"There's no more honorable position," he says of his role. "You're making a difference in people's lives. You're helping people succeed. What's better than that?"
A huge Liverpool FC fan, he watched his favorite English Premier League football team play twice while they were in US and took his family on a stadium tour in Liverpool.
He loves classic cars and owns a 1972 Triumph TR6. It's a work in progress, but he finds it more fun than driving a modern vehicle.
London, Mike's favorite place in all his travels, is where he plans living part-time when he slows down or retires.
He's no fan of heights or spiders. No, not afraid—just not crazy about either.

His craziest travel story: A fellow passenger's new German Shepherd therapy dog jumped up on a plane seat in front of Mike and created utter chaos in his section (after its owner went to the restroom).
Contact your Hartford Funds advisor consultant or field specialist for Mike's availability.
Mike Lynch is a registered representative of Hartford Funds Distributors, LLC.
Check the background of this firm/individual on FINRA's BrokerCheck.
The MIT AgeLab is not an affiliate or subsidiary of Hartford Funds.
How to use technology in place of face-to-face meetings to remain connected to your clients

Help clients create an estate plan that incorporates what they hope to impress upon generations to come

Help clients transition to this uncharted phase of life successfully by connecting them with mentors who are thriving in retirement
March 2, 2018 (37:52)
Reframe the question, "When should I begin taking Social Security income?" to better equip clients when making critical decisions
June 2, 2018 (24:04)

Choosing a Social Security income option can be overwhelming. Learn the factors clients should consider.
March 2, 2018 (37:52)
Learn the scenarios that may subject benefits to taxation and ways you can help clients avoid potential reductions
February 2, 2019 (24:51)