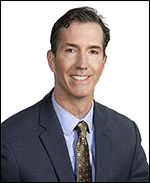 Ryan Sullivan, CFP®, CLU®, ChFC®
Managing Director, Applied Insights

As a managing director with the Hartford Funds Applied Insights team, Ryan is helping advisors connect with clients and prospects.
"Clients are more distracted than ever, given the constant lure of technology, the quickening pace of change, and the potentially overwhelming noise of 24-hours news and social media," he says.
In his "Communicating to Connect" workshop, Ryan shares proven, actionable techniques to help. 

"From learning how to simplify their message to thinking on their feet to being a better listener, advisors get to practice these skills with other professionals to improve their understanding and application," he says. 
According to Ryan, advisors who've attended past workshops share success stories with him about gaining new clients, closing new business, and even improving relationships with their significant others using his techniques. 
"It's a win anytime you can speak to folks in a way where they understand it, and you're not talking over their heads," he says. "In the end, they walk away able to digest what you're saying and feel there's something from that they can take action on at work and at home." 
Ryan volunteers his time teaching public speaking at the University of North Carolina and at a memory care center in Charlotte where he helps engage people living with Alzheimer's and dementia in storytelling.
A standup and improv comedian, Ryan also plays guitar and bass guitar (and occasionally sings when the "more talented" singer needs a break) in a Charlotte-based rock band. His advice to all cover bands: Don't play "867-5309/Jenny" too early in the evening.
Ryan says a sign a meeting went well is when they ask you back. 
His number one tip of the road: bring wet wipes on the road. (His wife Katie, is an infectious disease doctor in Charlotte, NC). 
He chose a career in financial services because he saw confusion, misinformation, and intimidation, in the industry and felt that he could help people get over those hurdles. 
Contact your Hartford Funds advisor consultant or field specialist for Ryan's availability.
Ryan Sullivan is a registered representative of Hartford Funds Distributors, LLC.
Check the background of this firm/individual on FINRA's BrokerCheck.
When communicating in a crisis, it's not just what you say—it's how you say it
Virtual meeting technology is a great option for staying in touch with clients

Our words used, body language, and tone of voice can all affect how even a simple message is received

Little-known benefits that could help children and those who care for them

Communicating to Connect
Connection is key when forming lasting client relationships. Ryan explains a concept how advisors can connect with clients─or anyone─ quickly and effectively.
InvestmentNews.com, April, 2020