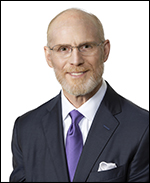 Steve Parnell
Managing Director, Applied Insights

In 2017, Steve Parnell visited 179 hotels from Maine to Hawaii giving presentations to advisors and their clients.
"I really loved what I was doing," he says.
Unfortunately, Steve would remain off the road for 15 months after he suffered a stroke in 2018.
"Who knew that that was going to take place," he says today.
In spite of the medical setback, Steve worked his way back to doing the job he says he couldn't stop thinking about during his long recovery journey.
Steve says his challenge helped him better understand the importance of discussing planning for the unexpected with audiences. He says it also made him an improved listener able to put himself in anyone's shoes.
"I don't care if they're 40, 60, or 80," he says of his audiences. "I listen to what they're saying and then I talk to them in a way to show them the changes can take place."
Growing up the son of a school teacher, Steve—one of 10 Parnell children—graduated from the University of Massachusetts before setting off for an extensive career in the financial services industry. He focused on retirement plan design, IRS/DOL compliance solutions, participant/employee education, and distribution strategies.
Now, more than ever, Steve says he wants to be out there to get a better of understanding of where audiences are headed.
"I look at an advisor and their clients and the journey that they're on," he says. "I want to take them in a different direction to have them think about things in a new way. I want them to think what is best for them and their family."
Steve says his health scare made him think about the job he loves in a new way, too.
"Very often, people in the audience will raise their hands and say, 'Can I ask you another question," he says. My dad or my mom or my grandparent had a stroke. Can you share what you went through?' It's great to be around the country doing all these presentations again.
Steve and his wife, Sandy are the proud parents of two grown children. Their son recently completed a five-year tenure with United States Marine Corps, while their daughter currently works in the MIT Open Learning division.
A big thoroughbred racing enthusiast, he can answer almost any question about the horses and their jockeys running the Triple Crown.
He's a pool-fitness instructor for members with disabilities within his local YMCA's Partnership Program.
What's Steve biggest passion: helping advisors and clients prepare for life's amazing, yet often unpredictable, journey.
Steve's grateful for the opportunity to work with all the gifted people he encounters in his travels.
Contact your Hartford Funds advisor consultant or field specialist for Steve's availability.