It took less than 10 years for compact discs to eclipse the sales of both vinyl albums and cassette tapes. Today, with streaming services and music on our phones, CD players aren't standard in every new car, and most stores no longer sell them. This has left many music lovers with the question: What will I do with all my old CDs?
This is also a question many investors should ask themselves. Unlike their musical counterparts, financial CDs—certificates of deposit—are still a popular short-term savings and income-generating tool since they're low risk and FDIC insured up to $250,000. They're not susceptible to market swings, so their predictable nature has kept them in style.
But in exchange for their minimal risk, CDs offer low yields (FIGURE 1), especially in today's historically low interest-rate environment. Their so-called safety could actually introduce far more risk than investors anticipate, especially if the funds in maturing CDs are set to automatically roll over into another CD.
Figure 1:
Average National CD Rates
6 month
0.18%
1 year
0.33%
5 year
0.47%
Source: Bloomberg as of 3/31/21
Time in a Bottle
Your time horizon is one of the most important things to consider when making any financial decision, but it's especially relevant when it comes to CDs.
For short-term savers, CDs may be a good fit. If you've saved money and know you'll spend it in the next year or so, it could make sense to park it in a CD—where you can't spend it on something else—and earn a little interest in the meantime.
But if you don't think you'll need to touch that money for several years, you could actually lose money by saving with CDs. Yes, you'll get your principal back, plus the promised interest, but as the following charts illustrate, you could invest differently to potentially earn more—even while drawing income.
Before the financial crisis, CDs and bonds paid stable, attractive income to investors. But interest rates and bond yields have remained historically low for the last decade in the wake of the crisis, while the longest bull market on record for stocks ran from March 2009 to March 2020. As long as this low-rate environment continues, finding income from CDs and bonds may continue to be challenging. Meanwhile, dividend-paying stocks have provided both growth and the ability to create a rising income stream.

CDs offer a fixed rate of interest based on an agreed-upon investment period, and may have penalties for early withdrawals. The income they generate is taxable annually (except in retirement accounts) and fluctuates with interest rates. For example, the income on a $100,000 investment was only $590 in 2016 but rose to $1,290 in 2018. CDs are generally considered short-term investments and are insured by the FDIC up to $250,000.
Bonds 10-Year US Treasury Bond
If you bought a 10-year Treasury bond in 2011, the rate would have been about 3.29%. While this income stream is predictable, it doesn't offer much protection against inflation, and bonds are not a diversified investment. Government bonds and Treasury bills are guaranteed by the US government and provide a stable source of income over a fixed number of years. Income is subject to federal tax except in retirement accounts. Bond prices may be marked up or down upon purchase or sale. Early redemption could result in losses.
Hartford Balanced Income Fund
Seeks to provide current income with growth of capital as a secondary objective by blending investment-grade bonds and dividend-paying stocks. The Fund can help investors engineer an income stream that factors in future inflation, though there is no guarantee the Fund will generate an income stream. Income distributions and systematic withdrawals from mutual funds are generally taxable. As with all mutual funds, the Fund involves risks and may not be suitable for all investors. The principal value and investment return of the Fund will fluctuate with changes in market conditions.
Mutual funds are generally considered long-term investments. During the period shown, the Fund's principal value ranged from a low of $100,000 on 12/31/2010 to a high of $148,404 on 12/31/20. Past performance does not guarantee future results. Investments in mutual funds are subject to operating expenses, which will lower performance. Examples are hypothetical and the results for other time periods could differ substantially from that shown.
Hypothetical examples and the results for other time periods could differ substantially from that shown above. The CD and bond illustrations assume that income distributions begin one year after the initial investment and are distributed every January per year, and no additional contributions are made after the initial investment. CD rate is based on the average 12-month CD rate at 1/1/11 and each January 1 thereafter; bonds are based on a 3.29% coupon rate of the 10-year Treasury Bond at 1/1/11 and assumes it is held until maturity. The growth of principal of the Hartford Balanced Income Fund depicted in the chart assumes the continued reinvestment of dividends and capital gains and is for illustrative purposes only. Source: Morningstar, Barclays Live, and Hartford Funds, 4/21.

You Oughta Know
Missed growth isn't the only way CDs can cost long-term investors. They're also susceptible to a double whammy of taxes and inflation.
In the ultra-low rate environment in response to the COVID-19 pandemic, banks can't offer high interest rates to consumers. Then, the interest earned from CDs is taxable, so Uncle Sam keeps a portion of that already measly return. And because CDs hold your money for a set length of time—often enforced with a penalty for early withdrawals—it means your investment may be helpless against inflation.
At the end of the day, it's not how much an investment makes, but what you keep, that really matters. And when all is said and done, the real return from CDs has been negative for the last several years.

The Real Return of CDs—You (Don't) Get What You Give
| | | | | |
| --- | --- | --- | --- | --- |
| Year | 12-Month CD APY1 | Taxes2 | Inflation3 | Real Return After Taxes & Inflation |
| 12/31/2016 | 0.59% | 25% | 2.08% | -1.64% |
| 12/31/2017 | 0.80% | 25% | 2.11% | -1.51% |
| 12/31/2018 | 1.29% | 22% | 1.95% | -0.94% |
| 12/31/2019 | 1.14% | 22% | 2.29% | -1.40% |
| 12/31/2020 | 0.39% | 22% | 1.29% | -0.99% |
Data Sources: Bloomberg, FactSet, and Hartford Funds, 1/21.

In Other Words
To sum it up, since they're easy and convenient, CDs could still be a good short-term savings tool for you. But ask yourself what price you're willing to pay for convenience.
Before you sign up for a new CD or automatically roll over an existing one, take a minute to step back and consider your time horizon and financial goals. Is this the most appropriate use of your money to reach those goals? Or would stocks, bonds, or a combination of both provide income while also growing your wealth for the long term?
Your financial professional may not be a music guru, but he or she can help you decide whether or not a (financial) CD makes the most sense for your individual situation. Schedule time now—before your CDs mature—to discuss your options and see if there's alternative that would make better use of your hard-earned money.
Hartford Balanced Income Fund has served investors well.
Performance (%)

Average Annual Total Returns % (as of 5/31/2021)

YTD
1YR
3YR
5YR
10YR
SI
Hartford Balanced Income A
6.04
17.58
9.93
8.58
8.14
7.54
With 5.5% Max
Sales Charge
---
11.11
7.88
7.36
7.53
7.13
Blended Index
6.59
21.48
9.95
8.61
8.16
---
Morningstar Allocation--30% to 50% Equity Category
5.23
19.58
8.22
7.46
6.02
---
Performance (%)

Average Annual Total Returns % (as of 3/31/2021)

YTD
1YR
3YR
5YR
10YR
SI
Hartford Balanced Income A
1.91
24.24
8.44
8.19
8.06
7.34
With 5.5% Max
Sales Charge
---
17.41
6.41
6.98
7.45
6.93
Blended Index
2.51
29.34
8.56
8.31
7.99
---
Morningstar Allocation--30% to 50% Equity Category
1.85
26.13
7.17
7.01
5.87
---
SI = Since Inception.
Fund Inception: 07/31/2006
Performance data quoted represents past performance and does not guarantee future results. The investment return and principal value of an investment will fluctuate so that an investor's shares, when redeemed, may be worth more or less than their original cost. Current performance may be lower or higher than the performance data quoted. 
If you're looking to clean out your old CD collection, they're #7 plastic, which is not recyclable. You can always sell or trade them in, and they can also be repurposed to keep them out of landfills. Here are some of the most popular ways to upcycle discs:
Coasters

Mosaics on flower pots, mirrors, picture frames, tables, etc.

Wind chimes

Garden scarecrows

Purchase a pick-shaped punch and make your own guitar picks (also works on credit cards!)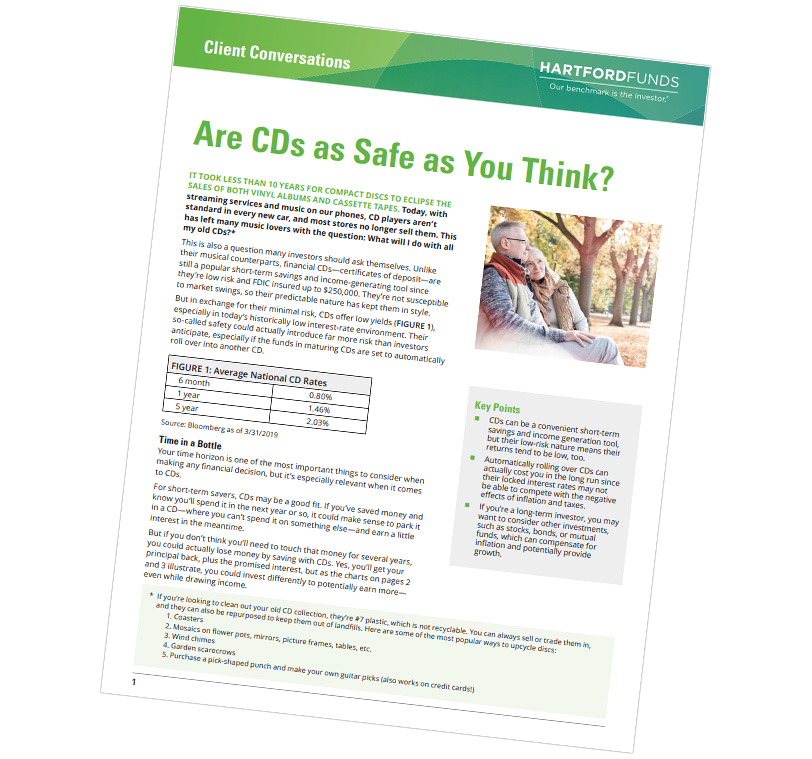 Please enter your email address to download Client Conversations: Are CDs as Safe as You Think? :
1 CD rates are proxied by BankRate.com's 12-month CD national average.
2 Source: Taxpolicycenter.org. The chart uses the highest marginal federal income tax rate based on $100,000 of taxable income for a married couple filing jointly for each calendar year. The tax rate is not representative of the experience of every investor. A lower tax rate would have a favorable effect on the real return.
3 Inflation rates are based on the Consumer Price Index (CPI), a measure of change in consumer prices as determined by the US Bureau of Labor Statistics.
Additional Information Regarding Bloomberg Barclays Indices Source: Bloomberg Index Services Limited. BLOOMBERG® is a trademark and service mark of Bloomberg Finance L.P. and its affiliates (collectively "Bloomberg"). BARCLAYS® is a trademark and service mark of Barclays Bank Plc (collectively with its affiliates, "Barclays"), used under license. Bloomberg or Bloomberg's licensors, including Barclays, own all proprietary rights in the Bloomberg Barclays Indices. Neither Bloomberg nor Barclays approves or endorses this material, or guarantees the accuracy or completeness of any information herein, or makes any warranty, express or implied, as to the results to be obtained therefrom and, to the maximum extent allowed by law, neither shall have any liability or responsibility for injury or damages arising in connection therewith.
Important Risks: Investing involves risk, including the possible loss of principal. Security prices fluctuate in value depending on general market and economic conditions and the prospects of individual companies. The Fund may allocate a portion of its assets to specialist portfolio managers, which may not work as intended. • Fixed income security risks include credit, liquidity, call, duration, and interest-rate risk. As interest rates rise, bond prices generally fall. • For dividend-paying stocks, dividends are not guaranteed and may decrease without notice. • Different investment styles may go in and out favor, which may cause the Fund to underperform the broader stock market. • Foreign investments may be more volatile and less liquid than U.S. investments and are subject to the risk of currency fluctuations and adverse political, economic and regulatory developments.

This information should not be considered investment advice or a recommendation to buy/sell any security. In addition, it does not take into account the specific investment objectives, tax and financial condition of any specific person. This information has been prepared from sources believed reliable but the accuracy and completeness of the information cannot be guaranteed. This material and/or its contents are current at the time of writing and are subject to change without notice. This material may not be copied, photocopied or duplicated in any form or distributed in whole or in part, for any purpose, without the express written consent of Hartford Funds.

CCWP035 221576