This chart illustrates that not all fixed-income asset classes react the same way to economic and interest-rate changes. By using a diversified investment approach across bond sectors you could reduce the amount of risk in your portfolio, and possibly add more stable returns in changing markets. Diversification does not assure a profit, protect against a loss, or eliminate market risk.

Annual Returns of Fixed-Income Asset Classes Represented by Indices as of 12/31/19
Data Sources: Morningstar and FactSet, 1/20
Past performance does not guarantee future results.
Indices are unmanaged and not available for direct investment, and do not represent the performance of any Hartford Fund.
Fixed-Income Strategies
Talk to your financial professional today about managing risk in your fixed-income portfolio.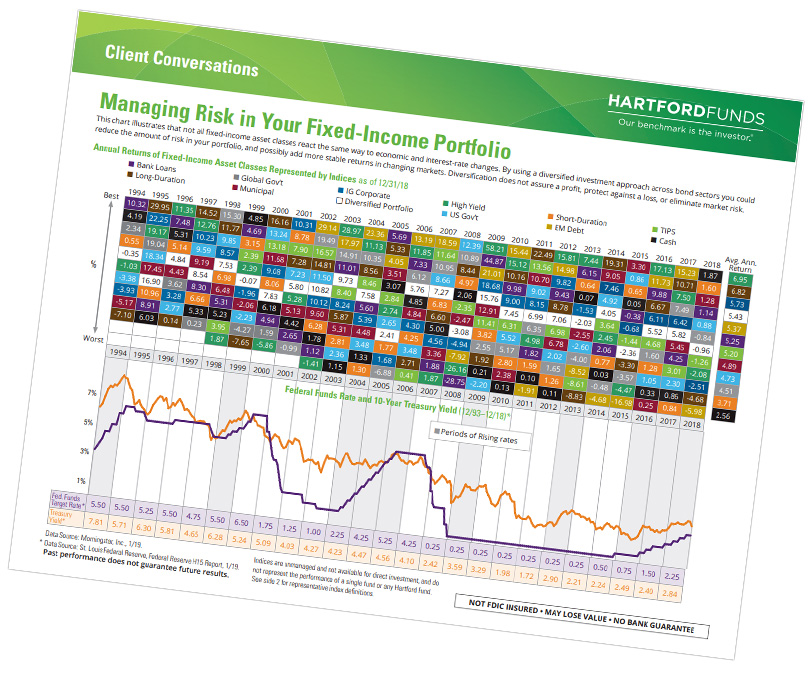 1 Effective as of the close of business on 3/29/19, Class I of the Fund closed to new investors, except as disclosed in the prospectus.
Important Risks: Investing involves risk, including the possible loss of principal. • Fixed income security risks include credit, liquidity, call, duration, and interest-rate risk. As interest rates rise, bond prices generally fall. • Foreign investments may be more volatile and less liquid than U.S. investments and are subject to the risk of currency fluctuations and adverse political and economic developments. These risks may be greater for investments in emerging markets.
Hartford Floating Rate Fund and Hartford Floating Rate High Income Fund should not be considered as alternatives to CDs or money market funds. These Funds are for investors who are looking to complement their traditional fixed-income investments.
Investors should carefully consider a fund's investment objectives, risks, charges and expenses. This and other important information is contained in the fund's prospectus and summary prospectus, which can be obtained by visiting hartfordfunds.com. Please read it carefully before investing.
All rights in the FTSE World Government Bond Index (the "Index") vest in the applicable company in the London Stock Exchange Group plc and its group undertakings (collectively, the "LSE Group") which owns the Index. FTSE® and Russell® (together "FTSE Russell") are trademarks of the relevant LSE Group company and are used by any other LSE Group company under license. The LSE Group does not accept any liability whatsoever to any person arising out of the use of, reliance on or any error in the Index. The LSE Group makes no claim, prediction, warranty or representation as to the results or the suitability of the Index for the purpose to which it is being used by Hartford Funds.
Additional Information Regarding Bloomberg Barclays Indices Source: Bloomberg Index Services Limited. BLOOMBERG® is a trademark and service mark of Bloomberg Finance L.P. and its affiliates (collectively "Bloomberg"). BARCLAYS® is a trademark and service mark of Barclays Bank Plc (collectively with its affiliates, "Barclays"), used under license. Bloomberg or Bloomberg's licensors, including Barclays, own all proprietary rights in the Bloomberg Barclays Indices. Neither Bloomberg nor Barclays approves or endorses this material, or guarantees the accuracy or completeness of any information herein, or makes any warranty, express or implied, as to the results to be obtained therefrom and, to the maximum extent allowed by law, neither shall have any liability or responsibility for injury or damages arising in connection therewith.
High Yield Bonds are represented by the Bloomberg Barclays Corporate High Yield Index, which covers the USD-denominated, non-investment grade, fixed-rate, taxable corporate bond market. Short-Duration Bonds are represented by the Bloomberg Barclays 1-3 Gov't./Credit Index which is composed of the Bloomberg Barclays Government and Corporate Bond Indexes, including U.S. government Treasury and agency securities as well as corporate and Yankee bonds, with maturities between 1 and 3 years. Municipal Bonds are represented by the Bloomberg Barclays Municipal Index, which covers the USD-denominated long term tax exempt bond market. Long-Duration Bonds are represented by the Bloomberg Barclays U.S. Long Gov't./Credit Index, which includes all bonds covered by the Bloomberg Barclays Gov't./Corp. Bond Index with maturities of ten years or longer. Investment Grade Corporate Bonds are represented by the Bloomberg Barclays U.S. Corporate Investment Grade Index which measures the performance of investment grade corporate bonds. U.S. Government Bonds are represented by the Bloomberg Barclays Government Bond Index, which is made up of of the Treasury Bond Index and the agency Bond Index, as well as the 1-3 Year Government Index and the 20+ Year Treasury Index. TIPS (Treasury Inflation Protected Securities) are represented by the Bloomberg Barclays U.S. TIPS Index, which represents securities that protect against adverse inflation and provide a minimum level of real returns. Global Government Bonds are represented by the FTSE World Government Bond Index, which is composed of 14 world government bond markets with maturities of at least 1 year. Bank Loans are represented by the Credit Suisse Leveraged Loan Index, which is a representative index of tradable senior-secured U.S. dollar-denominated non-investment grade loans. Cash Investments are represented by the Bloomberg Barclays 1-3 Month U.S. Treasury Bill Index, which measures the performance of a single issue of outstanding treasury bill which matures closest to, but not beyond, three months from the rebalancing date. EM Debt is represented by the JP Morgan GBI Emerging Markets Global Diversified Index, which is a comprehensive global, local emerging-markets index, and consists of liquid, fixed-rate, domestic-currency government bonds. Diversified Portfolio is represented by an equal portion (11.1% each for 1995-1997, 10% each from 1998-2001, 9.1% each from 2002-2019) of the previously listed indices.
216098 HFA000725 CCWP010_0120