Implementing a Retirement Tier
November 2018
As the retirement savings landscape evolves, it may be time for plan sponsors to expand their offerings.
As defined contribution (DC) plans shift from supplementary savings to the primary retirement vehicle for workers, we think plan sponsors should aim to evolve their investment menus not only to assist with the savings accumulation phase but also to help participants thrive in retirement.
Yet, to date, there have been few product innovations in the DC industry tailored to retirees, so late-in-career plan participants have been left with solutions that were not created specifically for their needs. Moreover, the needs of retirees can vary much more than those of younger participants.

Jed Petty, CFA
Director of DC Strategies

Chris Goolgasian, CFA, CPA, CAIA
Director of Investment Strategy and Portfolio Manager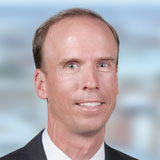 Rob Ball, CFA
Associate Director, Global Relationship Group
Investing involves risk, including the possible loss of principal. • Fixed income security risks include credit, liquidity, call, duration, and interest-rate risk.
WP470 209379