Q3 2019 Update
View Fund Details
Equities
12.4%
Global Dividend Stocks
Portfolio of 125 global dividend stocks with low vol and dividend yields around 5%
14.6%
US covered calls
Basket of 27 US quality stocks with options income around 12%
2.5%
US housing theme
Basket of 12 stocks (REITS and Homebuilders) that stand to benefit from low interest rate environment
3.3%
Energy theme
Basket of 6 oil majors with strong balance sheets and high dividend yields
4.5%
European dividend theme
Basket of 20 attractive dividend stocks listed in Europe (Divi yield around 4.5%)
Hartford Multi-Asset Income and Growth Fund Opportunity Set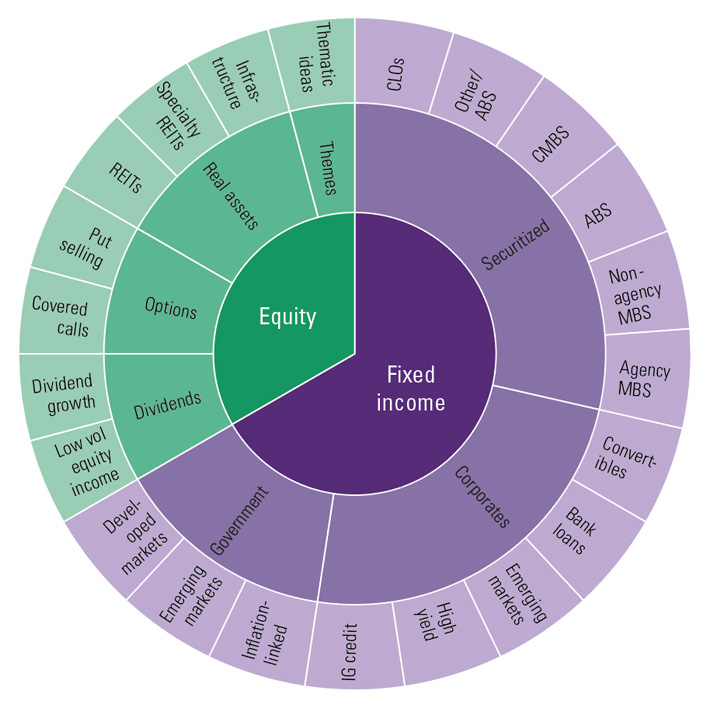 Fixed Income
21.6%
Investment Grade Corps
Portfolio of IG bonds with a preference for less cyclical sectors such as REITs and utilties
9.1%
US Treasuries
25 US treasury holdings ranging from 2 -yr to 30-yr maturities
5.3%
EM Sovereigns
15 sovereign bonds: majority of investments have Investment Grade rating incl Indonesia, Qatar, Romania
2.1%
EM Corporates
15 EM corporates, mainly in the oil & gas sector
5.5%
CLOs
> 50 CLO tranches across tier 1 managers; up in capital structure (AA/A)
5.6%
Bank Loans
Prefer loans to HY Bonds; favor higher quality issuers in less cyclical industries
3.7%
Non-agency mortgages
20 securities with exposure to Credit Risk Transfer securities and re-performing loans
1.5%
Agency MBS
Broad portfolio of GinnieMae and Freddie Mac mortgage pools
3.2%
CMBS
> 50 securities with exposure to multifamily, CMBS I/O, focused on tier 1 deals
1.2%
Consumer ABS
> 30 securities mostly prime auto loans and leasing
2.4%
High Yield Corporates
25 investments in HY Corporates with stable leverage and strong interest coverage ratios
0.8%
Convertibles
3 investments in DISH, Microchip, Priceline convertible bonds
1.2%
Taxable Munis
> 30 investments with focus on healthcare, transportation and special tax, local GOs
Hartford Multi-Asset Income and Growth Fund Opportunity Set
Commentary
We continue to focus on three key themes playing out across the world right now:
Slow growth
De-globalization points to lower long term growth and implies much less synchronization of growth across countries. In the third quarter, China's economy slowed by the most in 27 years amid ongoing trade tensions and lackluster economic growth. The country's currency also weakened to the lowest point since 2008, breaching a level that the central bank had previously defended.

Corporate spending has been very weak across the global as a result of increasing tensions around US trade policies

Implementation:

remain cautious on overall risk profile of the fund

maintain a quality bias within our credit and securitized allocations

Central bank dovishness; in September, the US Fed cut short term rates by another 25bps, while the ECB unveiled a sweeping, long-term economic stimulus package to bolster the eurozone economy against slowing growth and trade frictions.

Maintain exposure to IG corporates and higher quality HY corporate bonds with the view that corporates will likely outperform duration-equivalent sovereigns in this environment.
Technology super-cycle
Despite slowing economic growth we are experiencing large scale innovations in cloud computing, fintech and biotech

Secular long term winners in these areas are well-positioned to deliver above-average earnings growth

Implementation: covered call writing opportunities in beneficiaries of long term Microsoft, Mastercard, Adobe, Boston Scientific, Amazon
Inequality
Rising inequality across and within countries are feeding populist movements across the globe

Increasing risk of disruptive policy changes in the US are beginning to emerge

Implementation: keep equity exposure at the lower end of the 30-50% range given uncertainty around trade and emerging regulatory risks in the US

Brexit risks in Europe remain high while Italian sovereign risk has reduced meaningfully

Implementation: dividend stock opportunities are plentiful in Europe. A positive resolution to Brexit could be a major positive catalyst in the coming days.
Portfolio Snapshot
The Fund outperformed the blended benchmark for the quarter

Within equities, our core allocation to global low volatility income-oriented equities was a key contributor, driven by strong selection within real estate and technology. Strong security selection within our thematic allocation to EU dividend equities also benefitted the Fund.

Within fixed income, allocations to securitized credit added the most value
Performance (%)

Average Annual Total Returns % (as of 12/31/2019)

YTD
1YR
3YR
5YR
10YR
SI
Hartford Multi-Asset Income and Growth I
15.43
15.43
8.15
6.01
8.32
6.75
BENCHMARK
18.75
18.75
9.18
7.08
8.30
---
Morningstar Allocation--30% to 50% Equity Category
14.79
14.79
6.15
4.50
5.42
---
Performance (%)

Average Annual Total Returns % (as of 12/31/2019)

YTD
1YR
3YR
5YR
10YR
SI
Hartford Multi-Asset Income and Growth I
15.43
15.43
8.15
6.01
8.32
6.75
BENCHMARK
18.75
18.75
9.18
7.08
8.30
---
Morningstar Allocation--30% to 50% Equity Category
14.79
14.79
6.15
4.50
5.42
---
SI = Since Inception.
Fund Inception: 07/22/1996
Share Class Inception: 3/31/15.
Class I-share performance prior to its inception date reflects Class A-share performance (excluding sales charges) and operating expenses. SI performance is calculated from 7/22/96.
Yields (I Share)
| | |
| --- | --- |
| As of Date | 9/30/2019 |
| 30-Day SEC Yield | 30-Day SEC Yield reflects the hypothetical net current income earned, after the deduction of a fund's expenses, during a 30-day period, expressed as an annual percentage rate based on the fund's share price at the end of the period. Actual income distributions will usually differ. | 3.91% |
| Unsubsidized 30-Day SEC Yield | Unsubsidized 30-Day SEC Yield is the Fund's 30-Day SEC yield without the impact of fee/expense waivers. | 3.91% |
Performance data quoted represents past performance and does not guarantee future results. The investment return and principal value of an investment will fluctuate so that an investor's shares, when redeemed, may be worth more or less than their original cost. Current performance may be lower or higher than the performance data quoted.
Important Risks: Investing involves risk, including the possible loss of principal. Security prices fluctuate in value depending on general market and economic conditions and the prospects of individual companies. The Fund may allocate a portion of its assets to specialist portfolio managers, which may not work as intended. • Fixed income security risks include credit, liquidity, call, duration, and interest-rate risk. As interest rates rise, bond prices generally fall. • Investments in high-yield ("junk") bonds involve greater risk of price volatility, illiquidity, and default than higher-rated debt securities. • Loans can be difficult to value and less liquid than other types of debt instrument; they are also subject to nonpayment, collateral, bankruptcy, default, extension, prepayment and insolvency risks. • Investments in Equity Linked Notes (ELNs) are subject to interest, credit, management, counterparty, liquidity, and market risks, and as applicable, foreign security and currency risks. • Mortgage related- and asset-backed securities' risks include credit, interest-rate, prepayment, and extension risk. • Derivatives are generally more volatile and sensitive to changes in market or economic conditions than other securities; their risks include currency, leverage, liquidity, index, pricing, and counterparty risk. • For dividend-paying stocks, dividends are not guaranteed and may decrease without notice. • Foreign investments may be more volatile and less liquid than U.S. investments and are subject to the risk of currency fluctuations and adverse political and economic developments. These risks may be greater for investments in emerging markets. • Restricted securities may be more difficult to sell and price than other securities. • Obligations of U.S. Government agencies are supported by varying degrees of credit but are generally not backed by the full faith and credit of the U.S. Government.

Additional Information Regarding Bloomberg Barclays Indices Source: Bloomberg Index Services Limited. BLOOMBERG® is a trademark and service mark of Bloomberg Finance L.P. and its affiliates (collectively "Bloomberg"). BARCLAYS® is a trademark and service mark of Barclays Bank Plc (collectively with its affiliates, "Barclays"), used under license. Bloomberg or Bloomberg's licensors, including Barclays, own all proprietary rights in the Bloomberg Barclays Indices. Neither Bloomberg nor Barclays approves or endorses this material, or guarantees the accuracy or completeness of any information herein, or makes any warranty, express or implied, as to the results to be obtained therefrom and, to the maximum extent allowed by law, neither shall have any liability or responsibility for injury or damages arising in connection therewith.
214874