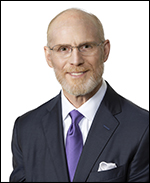 Steve Parnell
Managing Director, Applied Insights

Stephen's Full Bio


Stephen's Speaker Bio

Steve began his 30-plus year career in the financial-services industry focusing on retirement-plan design, IRS/DOL compliance solutions, participant/employee education, and distribution strategies. Today, he uses MIT AgeLab research to help financial professionals and their clients anticipate and overcome the challenges of aging and retirement challenges. This took on a whole new meaning for Steve after he suffered a stroke in 2018. Experiencing his own unforeseen, life-changing event brought home the importance of preparing clients for the unexpected.
Steve and his wife, Sandy are the proud parents of two grown children. Their son recently completed a five-year tenure with United States Marine Corps, while their daughter currently works in the MIT Open Learning division.
He's a pool-fitness instructor for members with disabilities within his local YMCA's Partnership Program.
Steve biggest passion is helping financial professionals and their clients prepare for life's amazing, yet often unpredictable, journey.
Steve's grateful for the opportunity to work with all the gifted people he encounters in his travels.
Contact your Hartford Funds advisor consultant or field specialist for Steve's availability.
The MIT AgeLab is not an affiliate or subsidiary of Hartford Funds.