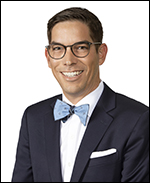 Bill McManus
Managing Director, Applied Insights

Bill's Full Bio


Bill's Speaker Bio



With nearly 20 years of experience in financial services, Bill has worked with countless financial professionals and their clients. He's got a knack for simplifying complex financial planning and investing strategies to engage and educate clients and prospects. He's also passionate about helping them look toward the future to anticipate and prepare for lifestyle changes that lay ahead.
Among other practice-management strategies, Bill shows financial professionals how they can adapt their prospecting strategies to a virtual world.
Bill loves to travel. He's visited 25 countries and counting. His favorite destination so far: Vietnam.
During his time as a child actor, he was featured in 12 commercials and one movie.
A former member of the U.S. National Rowing Team, Bill has two bronze medals from world championships in Lucerne, Switzerland and Seville, Spain.
He's been named the "Best Uncle in the World"—with several signed certificates signed and notarized in crayon to prove it.

Bill is in the beginning stages of learning to play the piano.
Contact your Hartford Funds advisor consultant or field specialist for Bill's availability.
Bill McManus is a registered representative of Hartford Funds Distributors, LLC.
Check the background of this firm/individual on FINRA's BrokerCheck.
The MIT AgeLab is not an affiliate or subsidiary of Hartford Funds.
Links from media articles to a non-Hartford Funds site are provided for users' convenience only. Hartford Funds does not control or review these sites nor does the provision of any link imply an endorsement or association of such non-Hartford Fund sites. Hartford Funds is not responsible for and makes no representation or warranty regarding the contents, completeness or accuracy or security of any materials on such sites. If you decide to access such non-Hartford Funds sites, you do so at your own risk.
Hosting a virtual event with local professionals offers a flexible, cost-effective way to connect with prospects
Wealth Management, August 2019

Digital Advisor Today, July/August 2020

The Wall Street Journal, July 2020

September 2, 2020 (23:08)