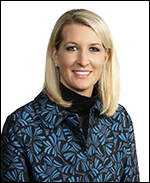 Julie Genjac
Managing Director, Applied Insights

Julie's Full Bio


Julie's Speaker Bio



With over 20 years of experience in the financial services industry, Julie believes that financial professionals sit in the industry's most difficult seat. As a registered corporate coach, she has extensive experience in coaching financial professionals and their teams, to help them not just create a vision for their practice but also achieve it. In addition to coaching, Julie's passionate about engaging and educating financial professionals and their clients to prepare them for long-term demographic and lifestyle changes that lay ahead.
When not traveling 35,000 feet up in the air, she unwinds closer to earth by boating on the beautiful waters of the Pacific Northwest.
The favorite tool of this DIY home improvement aficionado: the wet tile saw.
A self-proclaimed "water addict," you'll always find her with at least one (if not more) bottles in hand.
This Costco fanatic says she wanders the aisles searching for ingredients to cook meals with her husband, Nedim.
She'll tell you every year that she's a top contender for "Aunt of the Year." (She says her young nephew and niece, Grayson and Emerson, bring her tremendous joy.)
Contact your Hartford Funds advisor consultant or field specialist for Julie's availability.
Julie L. Genjac is a registered representative of Hartford Funds Distributors, LLC.
Check the background of this firm/individual on FINRA's BrokerCheck.
The MIT AgeLab is not an affiliate or subsidiary of Hartford Funds.
Links from media articles to a non-Hartford Funds site are provided for users' convenience only. Hartford Funds does not control or review these sites nor does the provision of any link imply an endorsement or association of such non-Hartford Fund sites. Hartford Funds is not responsible for and makes no representation or warranty regarding the contents, completeness or accuracy or security of any materials on such sites. If you decide to access such non-Hartford Funds sites, you do so at your own risk.
It's all about the three C's: staying connected, communicative, and creative
Create systems that  increase efficiency and help promote a sense of accomplishment while maintaining a remote work-life balance 

How to plan effective team meetings, ensure you have the right people in the right roles, and boost motivation

Are you checking in with your clients "just because," or only for business needs?

Financial Advisor IQ, November 2020

Digital Advisor Today, March/April 2020