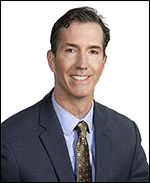 Ryan Sullivan, CFP®, CLU®, ChFC®
Managing Director, Applied Insights

Ryan's Full Bio


Ryan's Speaker Bio



Ryan leads communication workshops around the country and speaks on a variety of financial topics, with a focus on retirement research from the MIT AgeLab. To date, he has provided insights to audiences in 46 states and Puerto Rico, as well as led hundreds of webinars. Given his unique background in both financial planning and applied improvisation, Ryan seeks to balance the very human aspects of planning for later life with appropriate humor—a necessity, given the opportunities and challenges we all face as we age.
Ryan volunteers his time teaching public speaking at the University of North Carolina and at a memory care center in Charlotte where he helps engage people living with Alzheimer's and dementia in storytelling.
A standup and improv comedian, Ryan also plays guitar and bass guitar (and occasionally sings when the "more talented" singer needs a break) in a Charlotte-based rock band. His advice to all cover bands: Don't play "867-5309/Jenny" too early in the evening.
Ryan says a sign a meeting went well is when they ask you back. 
His number one tip of the road: bring wet wipes on the road. (His wife Katie, is an infectious disease doctor in Charlotte, NC). 
He chose a career in financial services because he saw confusion, misinformation, and intimidation, in the industry and felt that he could help people get over those hurdles. 
Contact your Hartford Funds advisor consultant or field specialist for Ryan's availability.
Ryan Sullivan is a registered representative of Hartford Funds Distributors, LLC.
Check the background of this firm/individual on FINRA's BrokerCheck.
The MIT AgeLab is not an affiliate or subsidiary of Hartford Funds.
Links from media articles to a non-Hartford Funds site are provided for users' convenience only. Hartford Funds does not control or review these sites nor does the provision of any link imply an endorsement or association of such non-Hartford Fund sites. Hartford Funds is not responsible for and makes no representation or warranty regarding the contents, completeness or accuracy or security of any materials on such sites. If you decide to access such non-Hartford Funds sites, you do so at your own risk.
Tips for increasing webinar engagement in 2021
When communicating in a crisis, it's not just what you say—it's how you say it
Virtual meeting technology is a great option for staying in touch with clients

Our words used, body language, and tone of voice can all affect how even a simple message is received

Investment News, October 2019

MarketWatch, September 2020

MarketWatch, December 2018