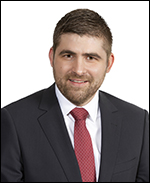 Tom Barrett
Managing Director, Applied Insights

"Stories are powerful," Tom Barrett says. "Sharing them can really help others."
After giving a hilarious presentation to his sixth grade English class, Tom's teacher correctly predicted his future career as a storyteller.
"He told my parents 'he's going to speak publically for a living,'" Tom says today.
Tom honed that skillset during college. Soon after, a varied career at Hartford Funds began, taking him from talking with advisors as an Internal Advisor Consultant to crafting marketing communications. All the while, Tom helped nurture and lead the firm's longstanding public-speaking club.
Eventually he joined the Applied Insights team as a director in 2019. Tom seized the opportunity to take all of his knowledge and experience from the home office and apply them out in the field.
Possessing a relatable style of presenting, Tom now journeys across the country educating and connecting advisors and their clients.
"This team really makes a real impact sharing information and empowering people to realize they have the power of storytelling," he says. "It's something I never got to see sitting behind my computer."
With financial services becoming more commoditized, he says advisors need to think differently about approaching clients' rising expectations.
"People are looking for ideas to get in front of the changing dynamics of not just our business but demographics, technology, and lifestyle trends," he says. "If they can take one or two elements from what we've discussed and apply it to their next conversation, I've accomplished my goal."
Tom's motivated by seeing how much the stories he shares—especially the longevity ones—connect with audiences. That's because those topics have also had an impact on his life, too. He's watched a grandmother battle Alzheimer's disease and tackled issues arising with aging parents.
"Longevity planning is a common bond that all of us have—none of us are going to be able to escape that," Tom says. "I saw how it impacted my family, and I felt it was important to educate people who haven't given it much thought or have had those experiences yet."
Tom enjoys traveling to warm climates. His favorite beach—Grace Bay Beach in Turks & Caicos.
He owns a 19-pound cat named Charlie, who was rescued during Superstorm Sandy.
For six years, Tom served as president of the Hartford Funds public speaking club.
He's a computer nerd and builds PCs from scratch as a hobby.

Born in Pennsylvania, Tom's California-resident parents raised him as a USC Trojans fan.
Contact your Hartford Funds advisor consultant or field specialist for Tom's availability.
Tom Barrett is a registered representative of Hartford Funds Distributors, LLC.
Check the background of this firm/individual on FINRA's BrokerCheck.